You may have heard that Myrtle Beach has recently voted to ban the use of canopy tents on the beach from Memorial Day to Labor Day. This is true!
We have "Myrtle Beach Compliant" beach umbrellas and Umbrella Anchors that will keep you from getting a fine and ruining your day. Our umbrellas are silver coated on the bottom side for maximum SPF protection and they have aluminum pole, fiberglass ribs and they are fully adjustable in height, so you can adjust them as the sun moves over you.
Check them out at http://www.AugHog.com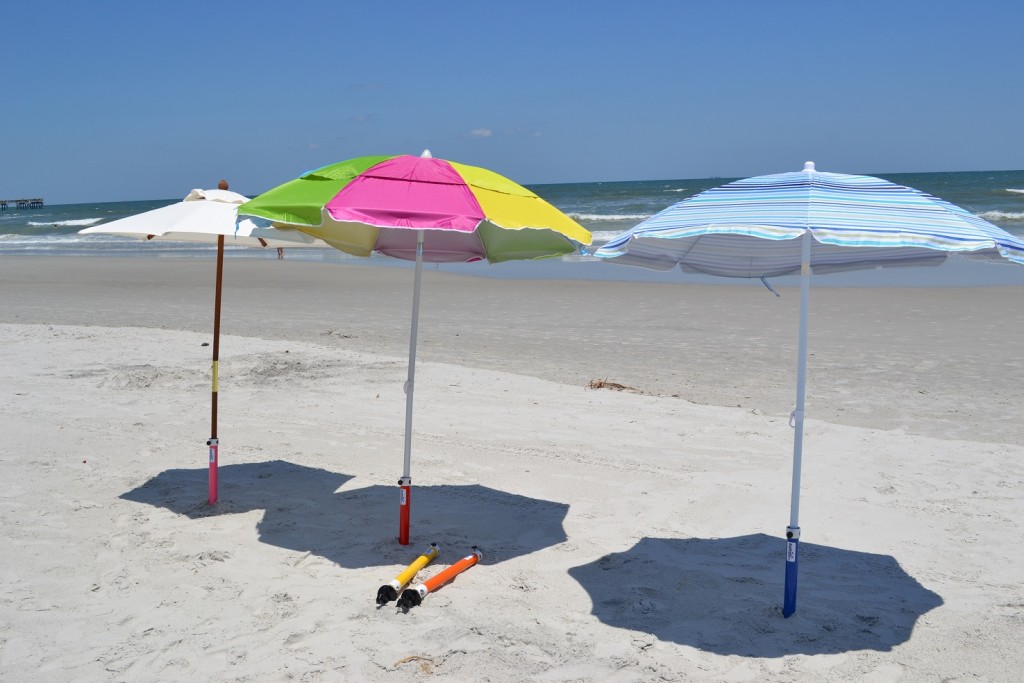 Here are some more details on the ban from http://www.myrtlebeachonline.com/2014/03/25/4120838/myrtle-beach-bans-beach-tents.html
Myrtle Beach bans beach tents from Memorial Day to Labor Day
By Maya T. Prabhu
[email protected] 25, 2014
Read more here: http://www.myrtlebeachonline.com/2014/03/25/4120838/myrtle-beach-bans-beach-tents.html#storylink=cpy
If you visit Myrtle Beach between Memorial Day and Labor Day and want to shade yourself, you'll have to use an umbrella.
Myrtle Beach on Tuesday became the second Horry County entity to ban tents and all other shading devices, besides umbrellas, on the beach.
North Myrtle Beach passed a similar law last week.
Myrtle Beach City Council voted 5-1 Tuesday to ban the tents, with only Councilwoman Susan Grissom Means voting against it. She also voted against the first reading of the ordinance two weeks ago.
"I have to reiterate," Means said. "I'm against this ordinance. I think it's wrong to tell people that they can't [have] a way to shade their babies and the elderly from the sun."
Means said babies need extra protection from the sun and sand, suggesting during a morning workshop that council members amend the ordinance to include small baby pop-up beach tents.
City manager Tom Leath also encouraged council members to consider making an allowance.
"We need to focus on what exactly we want to ban during the summertime," Leath said. "Do we really want to tell the mamas they can't have their little baby shaded?
"If we can control the smaller shading devices that don't impact public safety, I don't understand why we're taking those away. Think about what we're telling our guests and our residents that they cannot have on the beach."
Tents have been discussed among officials in Grand Strand beach communities for the past few years and most recently resurfaced during a June meeting of Myrtle Beach's Beach Advisory Committee.
Law enforcement officers and lifeguards have said the tents block their view of the beach, as well as their paths when emergencies occur on the ocean.
The issue went to the Coastal Alliance, a group that represents Horry County and cities along the Grand Strand, and members said they wanted to pass uniform rules in Horry County, Myrtle Beach and North Myrtle Beach to ease any confusion among visitors.
"When we started this discussion two years ago, there was a sincere effort, I thought, among the three organizations to have as close to mirror ordinances as we could have," Councilman Wayne Gray said. "I'm just frustrated that [is not happening]."
North Myrtle Beach City Council has changed its law, banning tents in all areas of the city from May 15 through Sept. 15. Horry County Council passed first reading of an ordinance March 11 banning tents year-round. A county ordinance requires three readings to become law.
Surfside Beach Mayor Doug Samples said last month that the upcoming election, scheduled for April 8, is slowing things down.
"We'll take a wait-and-see how the county proceeds," he said. "But we're not going to reinvent the wheel. We'll take action if the county does."
"All of the governments are going different ways," Leath said, adding that the laws already weren't uniform, so it gave Myrtle Beach an opportunity to amend their ordinance to allow smaller tentlike shading devices.
Council members said even though tents only were banned during a portion of the year in North Myrtle Beach and year-round in Horry County, they wanted to at least remain consistent on the fact that only umbrellas would be allowed.
Contact MAYA T. PRABHU at 444-1722 or follow her at Twitter.com/TSN_MPrabhu.
Read more here: http://www.myrtlebeachonline.com/2014/03/25/4120838/myrtle-beach-bans-beach-tents.html#storylink=cpy