The AugSign, Your best vinyl real estate sign post!
Why use the AugSign?
1) Never use a hammer again. The Auger system allows you to place the sign post without making a bunch of noise, or bending up your sign posts.
2) Never look for your sign again. Sick of chasing down coroplast signs that were once on wire frames? Me too!! This sign will stay put with the stainless steel fasteners.
3) UV Treated Vinyl Materials. The Aug Sign is made in the USA from the highest quality UV treated vinyl posts, and we also use stainless steel fasteners to keep your sign looking good for years to come. Never have to paint your old rusty sign frames again!
Works with all of your typical coroplast or aluminum 24″x18″ or 24″x24″ signs. Other custom sizes are available.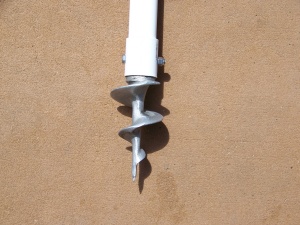 NOW ONLY $42.99 + Shipping
Call 904-270-9345 to Order Now!