Description
Beach in a Bag
If you have been looking for the ultimate beach umbrella set, you just found it. This all in one kit includes our top rated, made in the USA, AugBrella beach umbrella anchor, our patent pending beach mat with an umbrella hole, our umbrella with aluminum pole and fiberglass ribs, and umbrella towel hook.
This set includes:
AugBrella Beach Umbrella Anchor: Super Heavy Duty,Made in the USA beach umbrella anchor. Lightweight rust resistant design that will keep your umbrella anchored. (see more details on the AugBrella anchor here).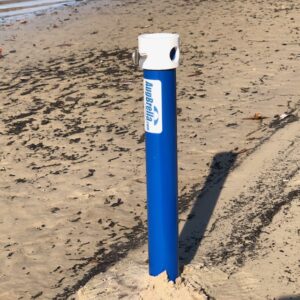 Beach Mat: Patent pending beach mat made from rip stop 220T nylon with large 7ft x 9ft foot print. The beach mat has a hole in the center with closures where the mat can be used with or with out the AugBrella anchor. Sand will not stick to the mat which makes it easy to keep clean. The mat includes 4 stakes for use on grass, and the corners are pocketed so you can add sand, or water bottles to keep the mat from blowing around. The beach mat can be used with or without an umbrella.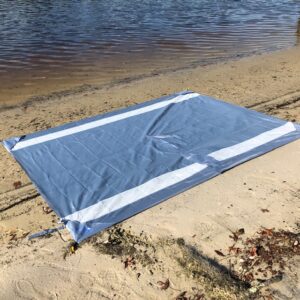 Carrying Bag:  This 60 in long bag gives you plenty of room for all of the gear and you can still fit a beach towel in the bag.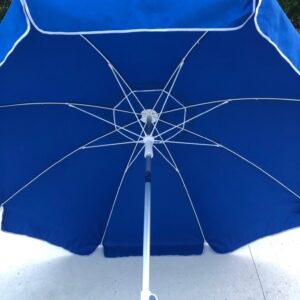 Blue Beach Umbrella: 28/32mm Aluminum poles, with tilt, 6.0mm fiberglass ribs, Adjustable in height from 48″ to 82″, 180g polyester, with air-vent, Blue solid color (See more details here)
Towel Hook: This handy towel hook slides over the upper umbrella pole. It is great to keep towels out of the sand or a great place for them to dry.