Description
Baja Table / Sun Shelf Umbrella Table                     
If you have been looking for a table to use on your Sun Shelf / Baja Ledge, and you have an umbrella pocket in your pool, you have just found it!
The SunShelf is a great umbrella table you can simply slide right into your existing umbrella pocket in your pool. All you have to do is remove the cap on the umbrella pocket and slide the SunShelf table in the hole.
We have different sizes available to accommodate your needs.
We have a 30″ high SunShelf  Table which will work perfectly for your shallow water ledge where you may want to place your normal plastic chairs on the shelf. Many people use lounge chairs on the ledge and this table will give you the perfect height to keep your drinks secure and close by. This option will hold an umbrella with a pole of up to 1.6″ The table height would be about 24″ above the bottom of the pool.
The 48″ SunShelf will give you about a 42″ bistro/pub-style umbrella table.  This is great for the people who like to stand up when using the SunShelf Table.
The 18″ table top is our new super heavy-duty table top which will hold most of the popular stainless steel tumblers, and large foam can coolers.
You can also add our LED light kit to the table as well.
Umbrellas are not included, but we have various color options available here. We do recommend umbrellas with anodized aluminum or fiberglass poles.
Proudly Made in the USA.
Patents Pending
You can also add umbrella pockets to existing pool decks. You may need a contractor to install a pocket for you, but we can recommend an umbrella sleeve that will work great for you.
Questions (Q) and Answers (A)
Q) Will this work in saltwater pools?
A) Yes! Our product will work in saltwater and chlorine pools. out materials will not rust in your pool.
Q) How tall is the table support rod?
A) We have Support Rods in 30 and 48 inches available.
Q) What size umbrella will work with the table?
A) Any umbrella with a 1.6″  lower pole will work, however, we recommend an umbrella with an anodized aluminum or fiberglass pole.
Q) Is the table stable?
A) The table is super heavy-duty. The support rod is designed to move a little when someone runs into it. It will essentially wiggle, but will not flop around.
Q) What size umbrella sleeve/ pocket will the table rod fit in?
A) It should fit any standard umbrella pocket like an Aqua Star, Waterways, or CMP that are from 1-1/2″ to 1-5/8″ that are 5 and 7″ deep. *Compatibility with other brands of sleeves is not guaranteed. Please check and verify your umbrella sleeve and verify if you have a step in your fitting. The photos show what one of the above sleeves looks like on the inside. If yours looks like this, select that you have a 2″ step on the inside of your sleeve. If you have a question on which sleeve you have please take a photo of the inside and send it to us via our Message Us or LiveChat in the lower right side of the website before you order anything. 
If your umbrella sleeve does not look EXACTLY like the ones below you will likely want to order a table rod that goes straight down without the step. If the inside of your sleeve looks like is two pieces glued together, or there is a purple color inside of it, you will also want to order a table rod that goes straight down. If you have a question on your sleeve, please send us a clear photo straight down inside of the sleeve BEFORE ORDERING.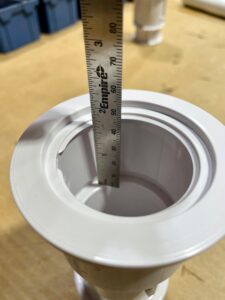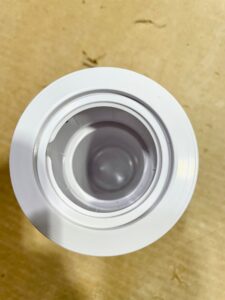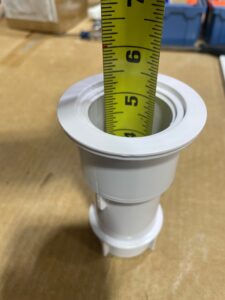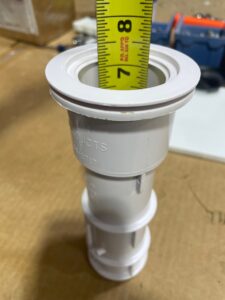 1.90 SR SMITH SLEEVES
Q) I have an SR Smith Bronze 1.90″ sleeve in my pool. Will this work?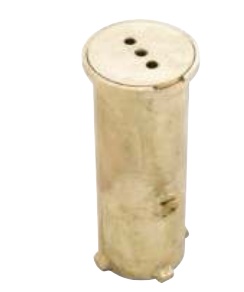 A) We do have table support rods that work with the bronze sleeves. You will want to select the 1.90 option from the drop-down. We would be happy to set you up with the proper table support rod.
Q) I have an SR Smith 1.90 sleeve that goes in a vinyl liner pool. What table rod should I order?
A) You will want to order the 1.90 table rod. Just select the length and color you need.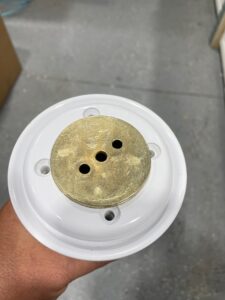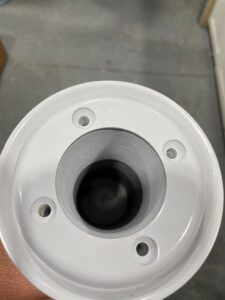 Q) Will this work with a Color Match Pool Sleeve / Pole Holder?
A) If you have the Color Match, Pebble Top pool sleeve, our table rod will NOT fit it. This is the style that has a little cap that is filled with pebbles to match your pool finish.
If you have the Color Match traditional style pool sleeve (which looks similar to the Aquastar fitting above) that has the screws on the cap, our STRAIGHT DOWN fitting will fit it.
Q) My sleeve in my pool has threads at the top of it about an inch or so down. Will this work?
A) If your sleeve has multiple threads at the top where it has a plug that screws into it. Please send us a photo of the inside of your sleeve before ordering.