Description
Now Available in a 1 piece or 2 piece design! ( Shown with optional bait and tackle table.) Called the BigRod for it size and ability to hold all of your fishing rods. The BigRod will hold Rods with handles up to 1.6″ in diameter. This rod holder is made from the best UV treated materials that will last you for years! The BigRod uses all stainless steel fasteners and will never rust. Unlike our competitors models where you have to hammer them into the ground, we use a reinforced auger that you easily screw into the ground with the included handle. Our BigRod will keep your fishing poles planted in the ground even when you catch a big one.
Great for fishing in ponds, lakes, rivers, streams, and ocean / beach front. Will go into most types of soils except rocky surfaces.
The BigRod is 4 ft 6 inches long. It is available in Blue, Pink, Red, Yellow, Orange and White. You control the how high you want the rod by chosing your angle or how far you auger it in to the ground. The average height is between 36 and 42 inches.
Comes standard without table, but they are available under our accessories. (Equipment and drinks not included either)
Made in the USA! Patent Pending
Check out our Fish-n-Spike too!
Need a long bag to carry all of your gear? Check out ours under the accessories.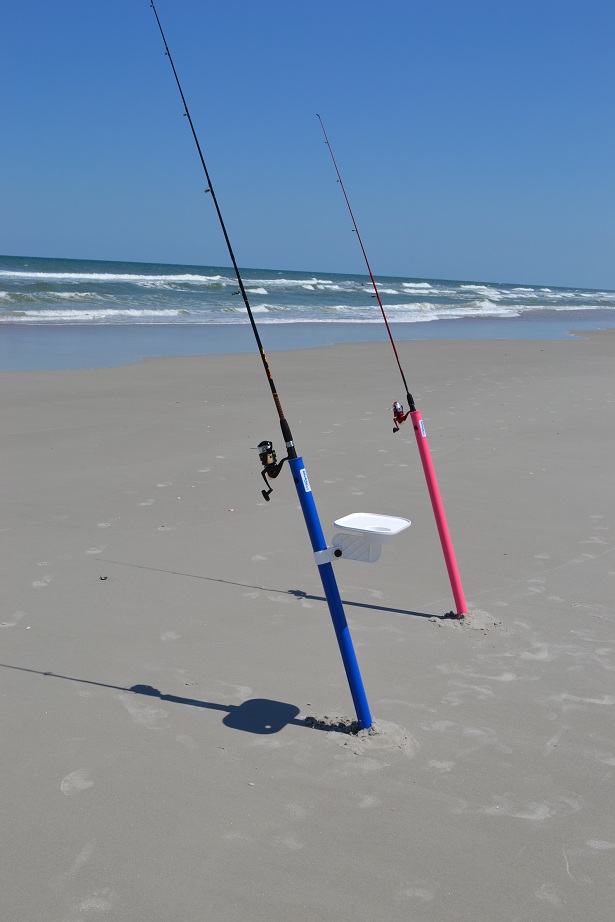 Shown With Optional Bait and Tackle Table available under our accessories.
The tables are able to be moved as high or as love as you would like them.