Description
AugAnchor – The Best SandBar Shallow Water and Beach Auger Anchor
MADE IN THE USA 
PATENTS PENDING
Sold in Sets of 2 with one handle to hold your bow and stern



Above: AugAnchor Available in two 4ft in white only, or two 5ft in a variety of colors. 
Below: Military Grade Auger with Drainage Channel and Stainless Steel Fasteners! This will help keep your boat clean.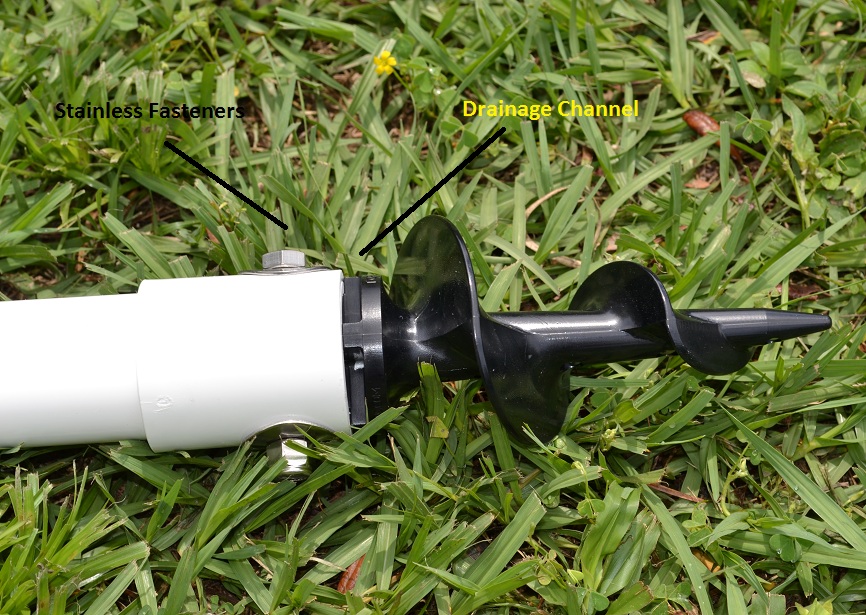 Each set comes with 2 AugAnchors along with the floating handle.
The AugAnchor is a patent pending, easy to use shallow water anchor system that will hold your boat in place like no other. They are the best boat anchors for sand at the beach, or shallow water period! These auger anchors are great for hanging out with your friends on the sand bar while your boat stays exactly where you put it. If you are in an area where tides come in and out you will love these AugAnchors. No more stubbing your toe on a traditional anchor, no wondering if your anchor is set, no moving your boat up and down the shore as tides change and most importantly no tearing up your keel….. There is nothing like running 100 grit sandpaper up and down your new boat all season long… You can use our products as boat shore anchors as well.
The Augers are American made with only the best products. Our products are UV rated and have impact modifiers added to the compounds. The augers are made from a top secret military grade composite, no cheap plastic stuff, and our underwater fasteners are all stainless steel. Finally a product that will hold up to years of use and abuse. Don't trust the straight plain PVC. It won't hold like ours and it gets brittle in the sun. As we like to say "If you are screwed you are stuck"!
Why AugAnchor vs. the other guys?
Our Product: Fully Floating System, If you drop it in the water it stays on top of the water.
Their Product: Sinks like a rock..
Our Product: Military grade auger with drainage channel will keep our products in the ground, and keep your boat clean.
Their Product: Spikes pull out of sand easily. Just ask the people who have made the switch to ours.
Our Product: is enhanced with a combination of titanium dioxide and UV stabilizers. These ingredients stave off the damage that can be created by the sun and various weather conditions. They also act as a protective mechanism against material degradation stabilizers. The composite design helps prevent scratching or damage to your boat. Think of a how you bounce around when you hit some waves. Imagine a heavy chunk of metal bouncing around in your ski locker, or storage area. The heavy metal anchors will wear on your fiberglass over time.
Their Product: Either made from cheap plastic or metal. (Ever dropped metal on fiberglass before? It is not pretty!)
Photos of the AugAnchor in use:
Yes it is a floating anchor… Kinda cool huh?
(NOT FOR USE IN INTRACOASTAL WATERWAYS OR HIGH CURRENT BODIES OF WATER because you won't be able to stand against the current to get them out. We have tried!) Not Recommended for boats over 28 feet long.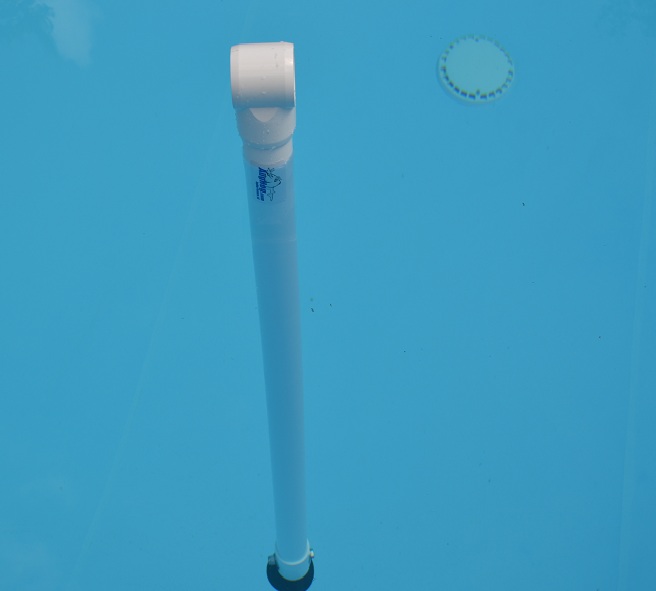 American Made Augers with Drainage Channels for fast clean up. Keeps the dirt out of your boat.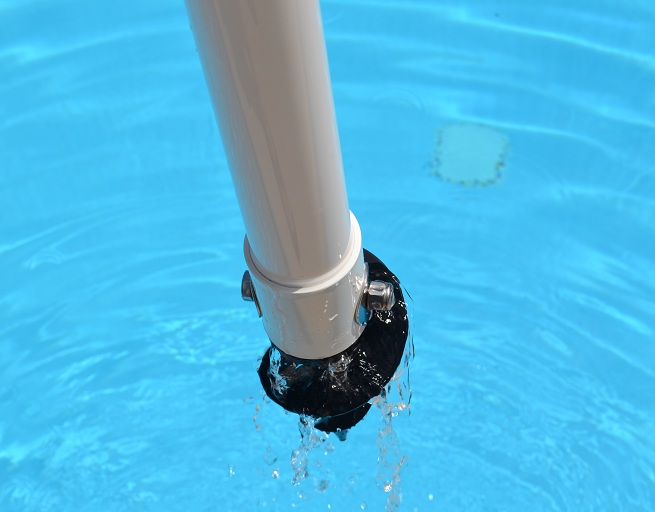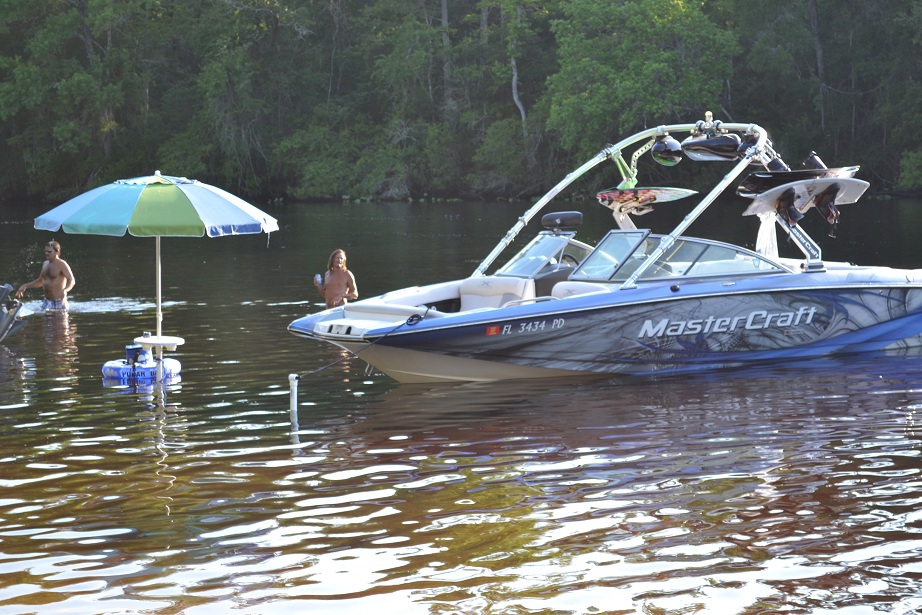 Okay… So we don't recommend using the AugAnchor for multiple boat tie off's, but as you see below it has been done. This was actually 3 boats tied off to one AugAnchor. There was a boat tied off to the left side of the  boat with the outboard.